Home
FOR IMMEDIATE RELEASE
SAT PLATING NOW PROCESSES MULTI-SHOT MOLDED PLASTIC COMPONENTS WITH FUNCTIONAL & DECORATIVE APPEARANCE FINISHES
Troy, Michigan

An example of this capability is SAT Plating's work for Ford Motor Company. SAT is plating Lincoln vehicle key fobs with a functional copper antenna and decorative Black Chrome finish. Click here to review the Case Study on this.
Multi-Shot Molded Plastics with Selective Plating – component parts are injection molded with plateable and non-plateable plastic resins resulting in a natural masking effect. Functional and/or appearance plating is then applied to the plateable plastics.

Multi-Shot molding can support your product needs and business results by:
Reducing the number of parts, fasteners, and labor needed to make a complex assembly

Allowing for intricate designs & embedded functional capability

Providing an alternative to metal parts

Reducing component weight

Improving component performance

Simplifying design & engineering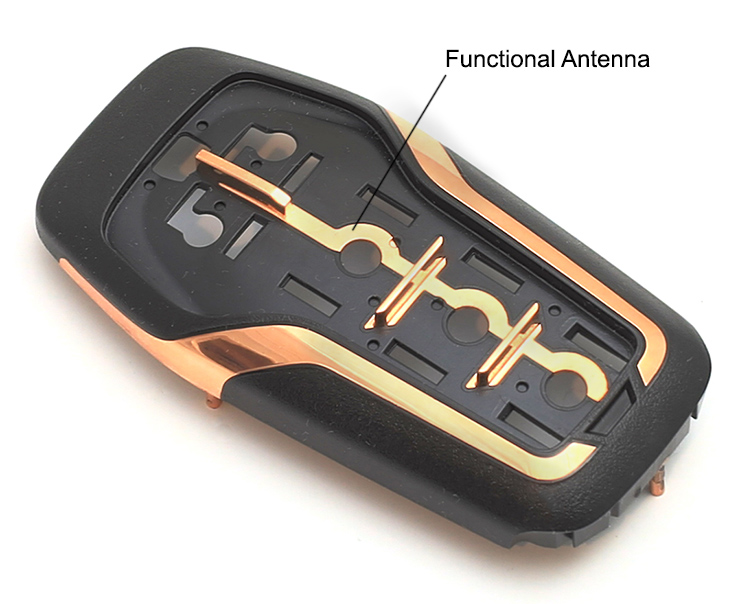 SAT's expertise in surface preparation makes the difference – SAT's proprietary Surface Activation® gas process, working in combination with the MacDermid Macuplex chemistry system, allows SAT to create cost effective & time efficient processes. These processes ensure best-in-class metal deposits for:

• Structural, functional and appearance finishes
• Superior adhesion of plated finishes
• Reliable product performance through time and variability of use

Applications for SAT Plating are wide-ranging – primarily, SAT clients include Automotive, Medical & Appliance industries
As an example, SAT Plating is approved to Ford Motor Company specifications for:
SM 933 – "Blackstone" Black Chrome

SM 911 – Smoke Chrome

SM 5077 – European Satin Chrome
We Can Plate These Polymers
(Including Plating & "Non-Plating" Grades)

ASA

ABS

ABS-PC

PA (nylon)

PE

PEI (Ultem™)

PEEK

Polysulfone

PP

PPS

Styrene

TPO
For more information, click here to review the Case Study on SAT Plating's Lincoln Key Fob Initiative.
SAT Plating can also supply your custom and proprietary plating needs – contact us or call Debbie Maguire (Technical Sales) at 812.453.6077 to let us know how we can help you!