Plating ABS and PC/ABS
We plate ABS and PC/ABS with appearance and functional metal finishes. We can achieve this by using our Surface Activation® technology or with traditional plating methods.
Our depth of experience with ABS and PC/ABS allow us to plate for OEM and Tier 1 automotive suppliers and also the medical and aerospace industries.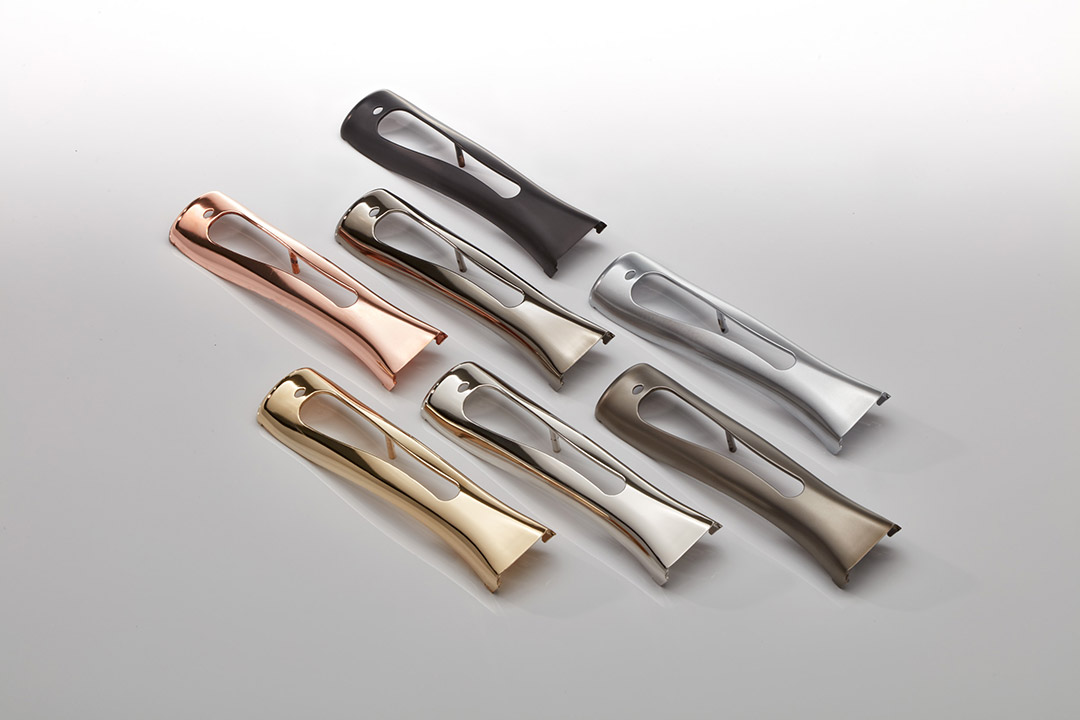 Pigments can also be added the material, allowing it more aesthetic options than some other thermoplastics.
Why Use ABS and PC/ABS?
Both ABS and PC/ABS materials offer a dynamic range of properties in which they can adhere to. The wide range of possibilities during the production process affords the materials the ability to be applied to a multitude of things, ranging from Lego to blood access medical devices.
The malleability of the materials also affords it plenty of different applications since it can be specially molded for different situations. It can also be 3D printed or injection molded, creating even more opportunity for the materials.
Pigments can also be added the material, allowing it more aesthetic options than some other thermoplastics.
PC/ABS also affords a high natural heat resistance that offers plenty of different applications in extreme environments, especially when coupled with its chemical resistant capabilities.
A Closer Look at ABC and PC ABS
ABS—also known as Acrylonitrile Butadiene Styrene—and PC ABS—also known as Polycarbonate Acrylonitrile Butadiene Styrene—are a thermoplastic polymer that is amorphous in nature, affording it no true melting point. Because of this, ABS is generally used in situations where the temperature ranges between -4 °F and 176 °F (-20 °C and 80 °C).
ABS offers high impact resistance as well as a compositional toughness. One of the major pros of the impact resistance of ABS is the lack of fall off at lower temperatures. The material can also be reinforced to increase its impact resistance, heat resistance, and its toughness; although, it does change the properties of the material.
Due to ABS's ability to change properties, there are two commonly used grades of ABS, one made primarily for extrusion, and one made primarily for injection molding. The different grades also offer differing degrees of impact resistance, that being injection molding ABS offering high resistance and extrusion ABS offering medium impact resistance.
ABS is also directly affected by the conditions in which it is processed. Molding ABS at high temperatures increases the materials gloss and heat-resistance, while molding at lower temperatures gives a higher impact resistance and toughness. During the production process, resin pellets are added to increase the maximum operating temperature, while pigments can also be added to change the color of the material.
ABS is also resistant to alkalis, acids, and oils. This increases the possibilities of application for the material; although, it should be noted that it is not resistant to all alkalis, acids, or oils. ABS swells when exposed to aromatic hydrocarbons, glacial acetic acid, and carbon tetrachloride. The material is also soluble in esters, ketones, and acetone.
The major difference between ABS and PC ABS is that PC ABS doesn't require any protective coating when faced more extreme temperatures than ABS as well as more extreme temperature fluctuations. This also offers the material the ability to extinguish itself if it catches fire. PC ABS also affords better electrical properties as well as generally being unaffected by the presence of humidity.
We provide engineering solutions, no matter where you are in the process.